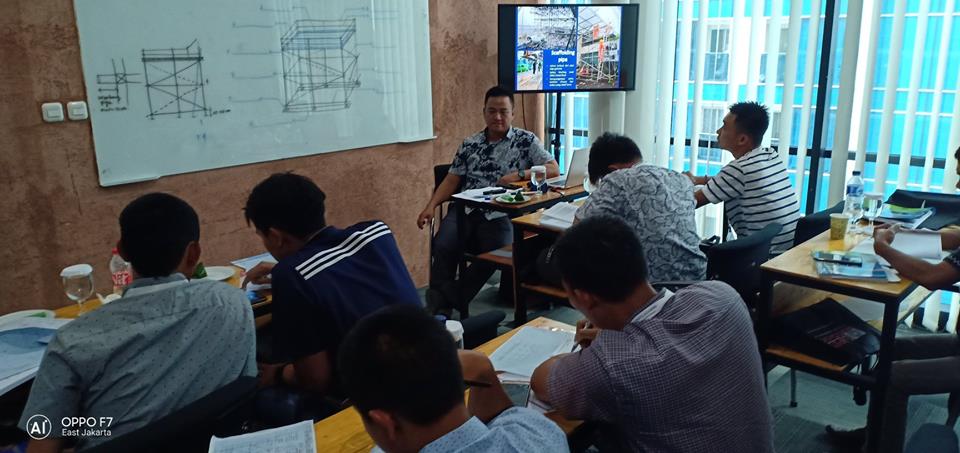 Public Training Basic Perancah, 18 – 21 Desember 2018 – Mengetahui dan melaksanakan peraturan keselamatan kerja yang berlaku pada saat menangani scaffolding merupakan suatu keahlian yang harus dimiliki oleh seorang Scaffolder.
Peningkatan keahlian dari Scaffolder tersebut haruslah selalu di update dengan cara mengikuti pelatihan yang sesuai.
Melalui pendidikan dan pelatihan, dapat ditingkatkan pengetahuan dan keterampilan, tanggung jawab dan disiplin, pemahaman dan pengertian tentang persyaratan keselamatan dan kesehatan kerja. Pelaksanaan keselamatan dan kesehatan kerja ini bertujuan untuk menciptakan lingkungan kerja yang aman, sehat dan sejahtera, bebas dari kecelakaan dan penyakit akibat kerja.
Tujuan Training Basic Scaffolding
Pelatihan ini dirancang untuk memenuhi peraturan pemerintah: UU no. 1 tahun 1970 tentang Keselamatan Kerja, Peraturan Menteri Tenaga Kerja no. PER. 01/MEN/1980 tentang Keselamatan & Kesehatan Kerja pada Konstruksi Bangunan dan SKB Menteri Tenaga Kerja dan Menteri Pekerjaan Umum no.Kep 174/Men/1986 dan no. 104/Kpts/1986 dan pedoman pelaksanaan tentang keselamatan dan kesehatan kerja pada tempat kegiatan konstruksi.
ISC Safety School member of Proxsis menyelenggarakan Public Training Basic Perancah periode 18 – 21 Desember 2018 berlokasi di ISC Safety School The Hive.